Happy August! 😀 Yesterday, August 1st, I got married! And as this post is published, I'll be on a plane to Hawaii for honeymoon! Therefore, this marks the beginning of my pre-written posts. I don't know how my internet will be, so please forgive me if replies are delayed by a couple of weeks.
Onto the post though – this month, I actually read a decent bit!
---
Books
I finally did it, I finally read this book… and honestly I was very underwhelmed. I'm going to commit treason here and say the movies are far far superior to the books. I'm going to forgive the fact that there are zero female characters by falling back on the 'it's a dated book' excuse… but yeesh, for all the talk I've heard about Tolkien's detail and flowery writing, I didn't see any of that, man. If anything, I feel like there wasn't enough detail. Events went way too fast, there was a lot of hand-waving… it was really disappointing.
Case in point (mild spoiler): At one point, they were chased out of a cave, climbed a tree, threw some rocks (or potatoes or something) and then were swept away by giant birds. The writing more or was written exactly how I wrote it, plus maybe 100 words. It was a very quick scene that should have been way longer. And to top it off, the whole birds thing has something like 'Birds that Galdalf saved that one time swooped in and saved them all'. What? This is classic writing? This is considered a hallmark? WHAT?
It was not great. 2.5/5 stars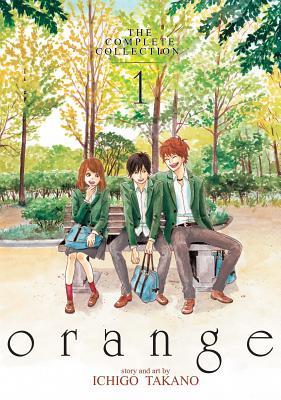 This one, unlike the previous book I just mentioned, was a pleasant surprise. I picked this up on a whim because I had been seeing it around and found myself rather enjoying it. Aside from the goofy naming convention (The Complete Collection vol 1, what?) this manga was a breath of fresh air! It was cute and fluffy and light-hearted… and kinda grim at the same time. It was a weird combination and I really dug it.
4/5 stars
This one… was an interesting read. Some parts of I really really liked. Other parts I didn't. I think my main biff with this story was the whole ten-minute explanation of all the magical realism elements at the very end. It was like 'Wow wow wow all this neat stuff happened! I wonder how it was possible!" "Oh, it was totes this". The End.
It was a lot of build up for such a big let down and it really made me dislike the book as a whole if that's the explanation they decided to go with without taking the time to fully set it up. Yikes. I mean, the plot of this book is really good – that I really liked. The exposition of it was not great. I wrote a review on it if you'd like to know my full thoughts.
3.5/5 stars
This book, this book killed me. I adored this book, mostly because it was a wonderful ending to a three-book series. Endings are make or break and this book made it so, so bad. It was wonderful!
I have a full review on this one written up and scheduled for next week, so I won't go into more detail here. But gah ❤ It was so great. 😀
4.5/5 stars
.
---
r/Fantasy Bingo 2017
I'm the template provided by Millenium_Dodo here, which you can as well if you're participating. 😀
LOOK I made a bingo!! 😀
---
Blog Activity
11 posts created



One Wrap Up
One Currently Reading
Top 5 Wednesdays
One Tag
One haul
One Monthly Recs
One readathon post
One blabber
A regular posting schedule (plus or minus some) works wonders, yo.
---
Reading Goals
Complete a Goodreads Reading Challenge of 50 Books: 33/50
Count how many books I own and determine how many are not yet read – Was complete, need to do again.
Discard books I don't like or lose interest in reading – None
Read all of the books on my 17 in 2017 list – 5(7)/17
---
And that's it! Happy reading! :"D